Why choose Oasis?
Bottle and POU Water Coolers Advantages
Discover what superior product performance feels like!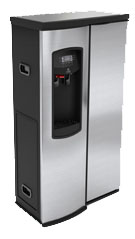 Oasis is the recognized worldwide leader in the design and manufacture of Bottled Water Coolers, Point of Use Water Coolers and Pressure Water Coolers.
All Oasis water coolers are designed and manufactured to be durable, easy to service and clean for a pure drinking experience for end users.
By making them this way, we help to reduce your service calls and improve your bottom line!

Durability
Self-supporting frames on all models makes Oasis the most stable coolers in
the industry
Metal base provides for a sturdier foundation than plastic bases
One piece blow molded construction technology resists impacts better

Easier to Clean, Service & Refurbish
Frame keeps unit stable during servicing
Patented removable reservoir technology provides for the easiest cleaning
Two piece hot tank technology makes it easy to service hot tanks
Rigorous Quality Standards Ensure the Purest Water
All water contact components are qualified by Oasis engineering & technical staff to meet or exceed NSF and FDA standards
UL certified lab in Oasis mfg. facility
---

Click here for a hassle free quote!
---
Store Location
710 Berdan Ave.
Toledo, OH 43610
(419) 241-6715
(888) 241-6715
(419) 241-9415 fax
---
Hours
Monday - Friday: 7 a.m. - 5 p.m.
Saturday: 10 a.m. - 12 p.m.
Sunday: CLOSED
---