Create the perfect wedding party favor: customized bottled water with wedding water bottle labels
Customized wedding water bottles are a great way to personalize your special day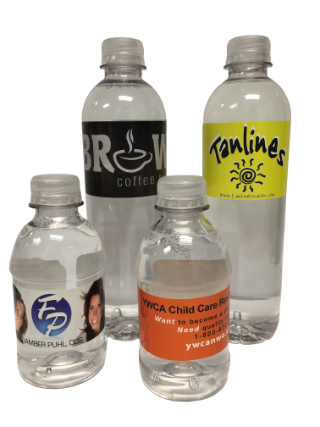 Custom label bottled water for weddings or bridal showers
Customized bottled water label designs

Wedding water bottle labels are perfect for outdoor or indoor weddings
Fast shipping of custom label bottled water
Competitively Priced wedding water bottle labels
Vivid color printing with photo-like images for your customized bottled water
Water resistant labels standard on wedding water bottle labels
Imported spring water for your customized bottled water

8 or 16.9 oz custom water bottle labels available
With our custom labeling program, you can have unique designs tailored specifically to your needs - email us your design, or have us create one for you.

Personalize your wedding with customized bottled water
We can make unique customized bottled water labels for your upcoming wedding. Wedding water bottle labels are a creative way to give your guests something that is different: custom water bottle labels allow you to place your signature on the event.
Collingwood Water is delighted to offer you the finest selection of customized bottled water and wedding water bottle labels that will add elegance and a deeply personal touch to commemorate your momentous occasion. We create custom label bottled water with the couple's name, wedding details, wedding colors, and photos.
Our customized bottled water is chlorine free and contains natural minerals so you're sure to have only great tasting water. Collingwood Water has four sizes of custom label bottled water for you to choose from. We offer customized bottled water in 8 and 16.9 oz sizes.
Our custom water bottle labels are digitally printed. We will gladly use your design or create customized bottled water labels for you.
Contact Collingwood Water today and give your wedding guests the unique memento of customized bottled water and wedding water bottle label for your special day!

Click here for a hassle free quote!
---
Store Location
710 Berdan Ave.
Toledo, OH 43610
(419) 241-6715
(888) 241-6715
(419) 241-9415 fax
---
Hours
Monday - Friday: 7 a.m. - 5 p.m.
Saturday: 10 a.m. - 12 p.m.
Sunday: CLOSED
---